COVID-19

Updates

Keep up to date with the latest Covid-19 measures we are implementing in the centre for the safety of our customers and staff.

27 January 2022
Following the most recent Government update, customers will no longer be required to wear a face covering when using the centre.

We do recommend the wearing of face coverings in enclosed of crowded areas.

Thank you for your continued efforts to keep our team and the climbing community safe. Read more below!

Membership Update
Memberships
All memberships can be updated using the form on our website.

This includes updating bank details, freezing, cancelling or requesting any other change.
Change Membership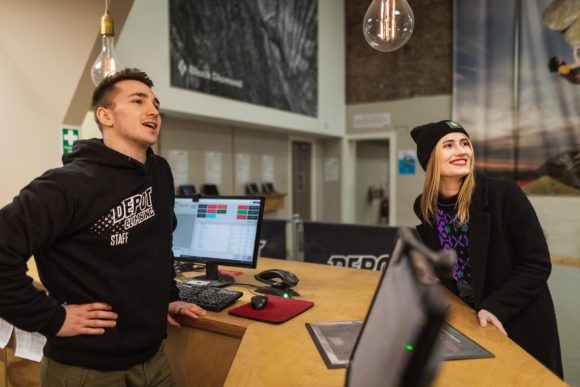 Covid-19 Policy
Our main priority is keeping our customers and team as safe as possible. Thank you so much for your continued support with this – we've been blown away by how cooperative and considerate you've all been.
The following is in effect at all Depot Climbing Centres.
Symptoms
Staff and customers should not enter the centre if they or anyone in their household are showing any symptoms of COVID-19. We reserve the right to refuse entry or ask a customer to leave if we feel they are not well enough to be in the centre.
Track and Trace
In the event of a confirmed case within the centre, we will be asked to share customer data of who attended in the period the confirmed case was in the centre. A Track and Trace barcode is displayed on entry and at each check-in station, please use this when arriving at the centre. You will also be signed in when you climb, if you do not wish your information to be shared with track and trace then do not enter the centre.
Face coverings
Following the most recent Government guidance, we recommend the wearing of face coverings in enclosed of crowded areas from  from Thursday 27th January.
Our staff may ask you to remove your face covering to identify you on entry to the centre. We reserve the right to refuse entry or ask a customer to leave for not following this policy.
Come ready to climb
We ask that you arrive ready to climb where possible, changing facilities will be available at all centres. Please bring minimal items with you to the centres, storage will be available at the centres.
Reduced capacities and length of a climbing session
We will continue to operate at a reduced capacity and review this periodically.
We ask that all customers are mindful of the duration of their sessions. In our smaller centres, in particular, we may get close to the capacity. We recommend a 2-hour session including getting ready to climb, warming-up, climbing and warming down. Once you have finished climbing please grab all your items and leave the centre to allow others to climb.
Checking in and out
Everyone who enters the centre will be required to check-in and out, this enables us to monitor capacity. After your climbing session (inc. instructed sessions) please return to reception to check-out of the centre. Please remember to do this as not checking out can impact the ability of someone else to climb in the centre.
Serving customers
Screens will remain at the counters. Customers will only be served at these points. The screens are marked to show you what you are able to do at each service point, e.g. shop/cafe, check-in and check-out.
Payment
Please use contactless payment wherever possible. This makes it safer for you and our staff as nothing is passed.
Signage and guidance
Throughout the centres, there are guidance posters at key points to help you with your journey through the centre. Please be vigilant of these when using the centre.
Hand sanitising and Hand Washing
At key points in the centre, we have added Hand Sanitising stations. We ask that you use these on entry and exit from the building and as much as possible during your visit.
Please wash your hands as often as possible during your visit, especially after climbing.
Social Distancing
Please continue to respect social distancing and give everyone enough room to feel welcome and safe.
Groups, social evenings and kids sessions
Please visit the beginners and experienced sections of our website to find information on the latest courses.
New climbers
Our video induction is available for bouldering at all centres at no additional cost. Visit the waiver page for the centre you intend to visit for further information. It is also available to watch in the centre.
Experienced climbers can sign in 2 inexperienced climbers and supervise them in the centres.
Cleaning
Increased cleaning of the centres will continue with a focus on high contact areas. On top of our daily cleaning, our contracted cleaners will clean down all centres overnight ready for the next day.
Ventilation
Wherever possible doors will be left open to allow fresh air to enter. Our centres that have fan systems will have these running. On colder days this will mean the centre may be colder, we recommend bringing extra warm clothing with you on colder days.
Hire stock
Hire stock is available and is sprayed and wiped down between uses where possible. We will rotate use of the equipment as much as possible to avoid the same item being given out repeatedly.
Liquid chalk
Due to the high alcohol content, liquid chalk may have an impact against the virus and its use is encouraged by us. We have a stock of Liquid Chalk of 70% and 80% alcohol content available at the centres. Please note that Liquid Chalk should not be used as a substitute for handwashing and sanitising.
Gym Equipment and cleaning
Before and after use please wipe down the equipment you use with the surface cleaner and paper towels provided.
Parents, guardians and spectators
When busy, (unless supervising an under 18 in the climbing area) parents, guardians and spectators will need to drop off their children and then wait outside the centre. This will significantly increase the space available within the centres. They can drop off and collect from the designated point. Parents who want to pay entry can climb as normal. This will be under review and will be restored to normal at the earliest opportunity.
Carers
A carer can be in the centre as a non-climbing supervisor free of charge when attending with the person they are a carer for.
Supervising Under 18s
The Supervised Climbing Form is now digital and must be completed on an iPad at each visit. This iPad will be cleaned between uses by Depot staff.
Shop
We ask customers to sanitise their hands before entering and when leaving the shop. Please try to only handle shop items you intend to purchase.
Face coverings must be worn when in the shop.
For shoe fittings, shoes will not be passed directly and will be placed next to the customer by the member of staff. All advice on fitting will be verbal with no contact between the staff and customer.
Cafe
Our cafes are open as normal.