Depot Pad Range
Pondering Buying a new pad? Wondering what to buy and where to get it from? Look no further!
There are not available on the website but we have an extensive selection in all our stores with unique colours and varying sizes. All our pads are selected for their safety, durability and practicality. Tested across the world by our staff team with them being used at home walls, out in the wild and even tested by our team's Crag dogs for sitting comfort! We are very proud to bring you the best there is to offer, so call into your local wall to select your next mat.
Black Diamond – Circuit
The keypad from Black diamond is a lightweight bright and bold Circuit crashpad. Featuring a strong graphic design available in 4 strong colours this is an ideal first pad. Made with closed-cell PE foam layup bonded to high compression PU foam you get a defusing of the impact across the pad to keep you safe along with a 900denier Nylon cover for durability. Also featuring 3 strap metal hooks as well as padded shoulder straps and a clip waistband it's comfortable on long approaches and easily slides into the back of a car.
Folded: Height: 89cm, Width: 20cm, Length: 60cm
Open: Height: 89cm, Width: 10cm, Length: 120cm
Weight: 3.775 kg (8 lbs 5 oz)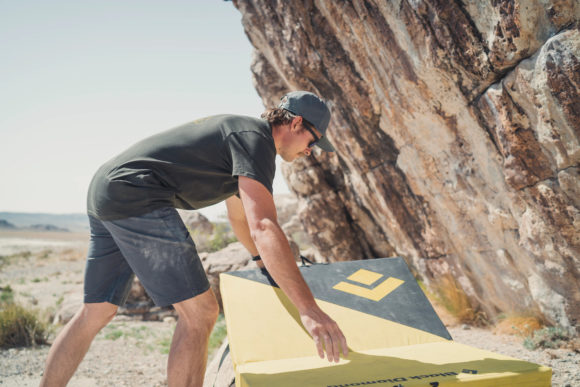 Moon – Pluto, Warrior, Saturn
A classic brand, head to any crag in the summer and you can guarantee the presence of a Moon pad! They are burrito style pads coming in three sizes the smallest being the Pluto, the middle Warrior and the biggest Saturn. Developed by Ben Moon and his team to contend with mud, damp and slippery forest floors as well as being as kind to the planet as possible and putting safety first. The largest two pads feature a unique big carpet patch witch neatly folds over the carry system to create a smooth and safe landing zone as well as a perfect place to clean your shoes before a send. The straps padded comfortable and fully adjustable with  the warrior and Saturn featuring an additional a waist and chest strap. You can also replace the skins and foam, if you wish to do that rather then replace the whole pad please get in touch with the shop team.
Pluto – Open Dimensions 100 x 100 x 8cm (40 x 40 x 3.2″) Weight:  approx. 5kg/10lbs
Warrior  – Open Dimensions 130cm x 100cm x 11cm (52 x 40 x 5″) Weight:  approx. 6kg/12lbs
Saturn – Open Dimensions 160 x 120 x 14cm (72 x 48 x 5.5″) Weight:  approx. 8kg/17lbs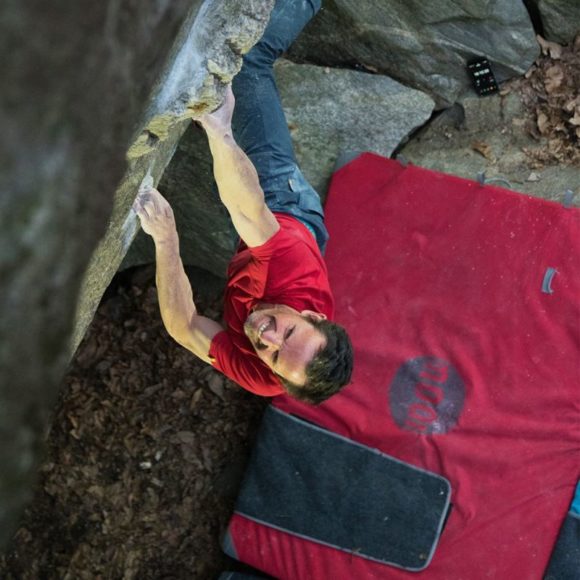 Organic – Briefcase, Simple, 5″Pad
Possibly the most colourful out of all our pads selection each organic is completely unique, just like there chalk bags they feature strong geometric colours and shapes across the front of there pads. With this Classic folding design and adjustable straps as well as the uncomplicated clear landing surface these pads are not just beautifully made but durable and made with high quality foam. The 1050denier ballistic shell on all the outers of the pads means it will take whatever you throw at. Favoured by many of the leading faces in bouldering world wide you cant go wrong with the classic designed presented by organic.
Briefcase (small sit pad) – Landing Zone: 24″x 36″ Thickness: 3″  Closed Size: 24″ x 18″ x 6″ Weight: 5 lbs
Simple  – Landing Zone: 36″x48″ Thickness: 4″  Closed Size: 36″ x 24″ x 8.5″ (approx.) Weight: 12 lbs
5″ Pad –  Landing Zone: 46″x58″ Thickness: 5″  Closed Size: 29″ x 46″ x 10.5″ (approx.) Weight: 20 lbs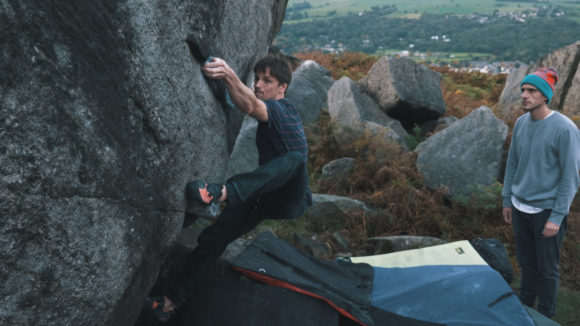 Flashed – Big Squishy, Drifter
Coming to the Uk all the way from Canada, Flashed is an iconic brand mixing it up with a new set of pads. The pads are light, comfortable to carry and built for easy stacking! Featuring multiple layers of foam, these pads are the perfect protection for hard falls, pushing your limits and really trusting what's below your feet. These pads also feature a unique flat mode hinge designed to lay completely flat to help limit hinge wear and tear and also that pesky tripping spot! All hardware is metal and the shell is composed of 1680 denier ballistic Nylon with a PU coating to get the longest life out of your pads.
Drifter  – Open Dimensions 50″ x 36″ x 4.25″ Weight: 6kg/13.5lbs
Big Squishy – Open Dimensions 58″ x 46″ x 5.25″ Weight:  8.6Kg/19lbs