Depot Climbing
Bouldering Mats
Looking to get into ourdoor bouldering and looking for your first bouldering mat? Pondering buying a new pad for your collection? Wondering what to buy and where to get it from?
Look no further than our hand selected range of bouldering mats.
Available in all our in-wall climbing shops, a comprehensive collection of pads with unique colours, varying sizes, and of course, the best brands in the business. All our pads are selected for their safety, durability, and practicality.
Tested across the world by our athletes and teams of staff with at home walls, out in the wild, and even tested by our team's crag dogs for sitting comfort!
We are very proud to bring you the best there is to offer, so call into your Depot wall to pick out your next mat.
Black Diamond
Needing little introduction to the climbing world, Black Diamond is a US-based company founded by nonother than Yvonne Chouinard. It has become synonymous with top-quality climbing equipment and is one of our main sponsors here at Depot Climbing.
Circuit Pad

– £125

The Black Diamond Circuit Crash Pad is the perfect intro pad for any climber aspiring to get into outdoor bouldering. Not only easy to carry thanks to its comfortable shoulder and waistband straps, but it's also comfortable on the pocket too at an intro-friendly price of £125.

Coming in an array of eye-catching colours; the Circuit bouldering mat is the perfect companion for taking your first steps into the world of outdoor bouldering or if you are looking to add a packable and affordable extra pad to your collection.

A hinge fold helps keep things compact and easy to pack, and a metal hook closure system.  Featuring the same 10cm thick foam as BD's Impact pad, and is made with durable 900D nylon material making this pad the perfect entry-leveler for so many reasons.

Folded: Height: 89cm, Width: 20cm, Length: 60cm

Open Dimensions: Height: 89cm, Width: 10cm, Length: 120cm

Weight: approx 3.775 kg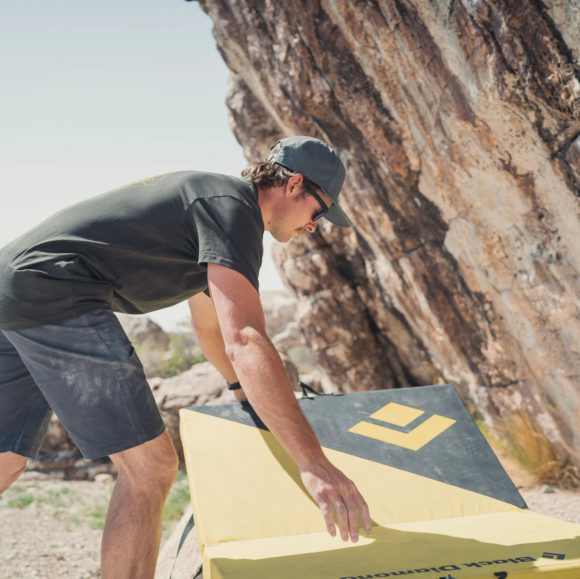 Moon Climbing
Straight outta Sheffield, Moon Climbing is the brainchild of legendary UK climber, Ben Moon.  Pushing the limits of climbing in the 80s and 90s, Ben is now dedicated to creating high-quality climbing equipment in the heart of British climbing, Sheffield.
Pluto Pad

– £145

The Pluto crash mat from Moon is the smaller pad in the collection, named after the smallest planet in the Solar system, it is the perfect compact pad for those looking to either discover the world of outdoor bouldering or would like to add another pad to their collection.

Made from ultra hardwearing ballistic proof 600D polyester shell and bonded closed and open cell foam, the Pluto will take all the pounding you can dish out. 

A taco folding style means that the Pluto is easy to carry, store and pack, and when it comes to folding out on the ground, has an anti-slip base and no creases for a smooth landing surface.

Lightweight aluminium buckles, and padded shoulder straps that can be detached while climbing or covered up with a flap to keep your straps clean. 

Open Dimensions: 100cm x 100cm x 8cm

Weight:  approx. 5kg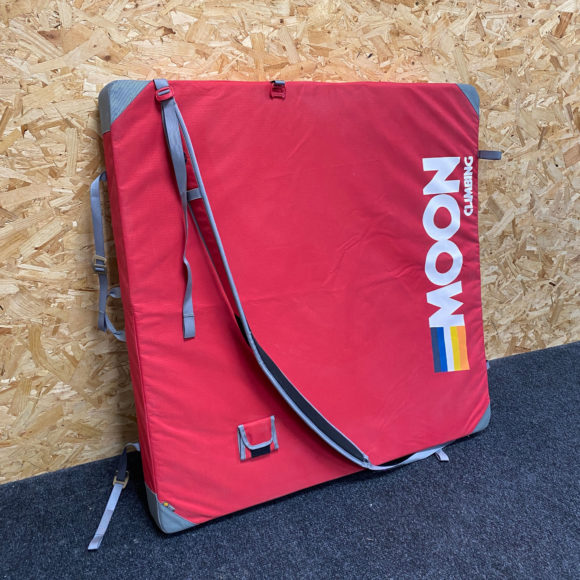 Warrior

Pad – £215

Winner of UK Climbing's Best in Test crash pad, the Warrior bouldering mat is a common sight at any crag, and with good reason!

Made from the same ultra-hardwearing 600D recycled polyester as the rest of the collection and featuring Moon's comfort carrying system and non-slip base, the Warrior provides landing protection that is comfortable and practical.

Featuring a comfortable carrying system of padded shoulder straps and waistband, and now an added chest strap that provides not just ultimate comfort, but security too n matter what the approach throws at you.

A carpeted flap covers the shoulder straps so they are hidden away and stay clean while giving you a perfect place to wipe your shoes to keep them clean before stepping onto the rock; an important feature to help respect the rock when outdoor bouldering.  

It's little surprise this pad from Moon Climbing is seen at crags all around the world!

Open Dimensions 130cm x 100cm x 11cm

Weight:  approx. 6kg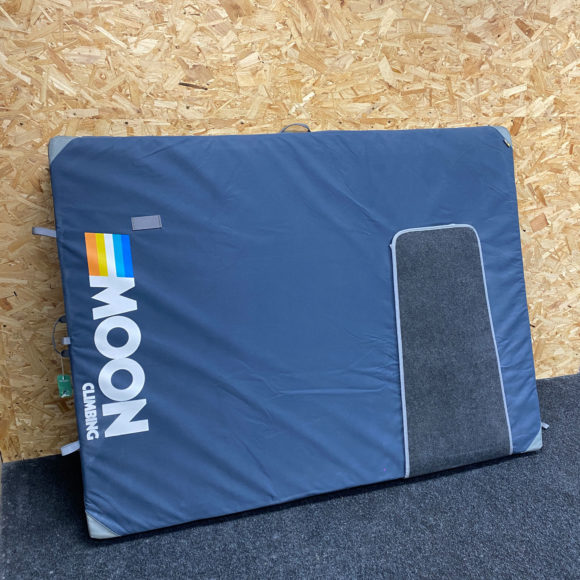 Saturn Pad

– £315

For the keenest climbers when outdoor bouldering, Moon Climbing brings you Saturn; named after the second largest planet in the solar system, and here for those climbers for who a medium pad just won't cut it.

Featuring all the qualities you'd expect from the Moon Climbing bouldering mat range, the Saturn has the same 600D recycled ripstop polyester shell, a non-slip base, and a coverable carrying system that is synonymous with Moon crash pads.

Coming in at a whopping 160x120x14cm, the Saturn will help pad out even the most awkward of landings.

Open Dimensions 160 x 120 x 14cm

Weight:  approx. 8kg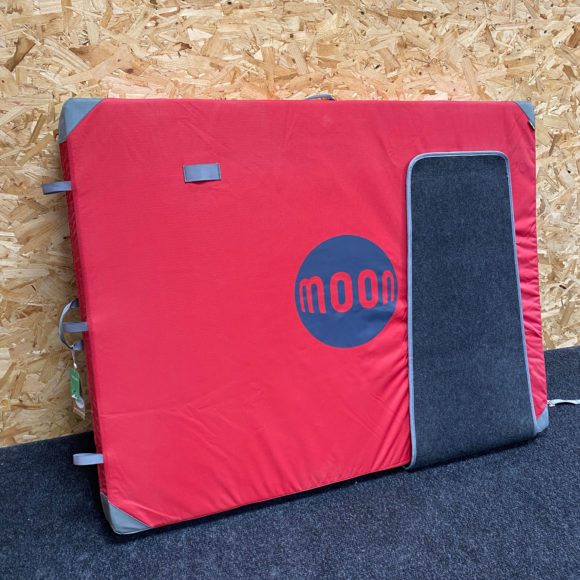 Core Climbing
When it comes to climbing, Core is a name synonymous with the best. You'll have climbed on multiple Core climbing holds in walls all around the world, and be very familiar with the safety their mats bring-most climbing walls in the UK have Core matting at their base.
Now, this Sheffield-based company has brought its industry-leading knowledge of matting to the portable, outdoor bouldering market with a collection of mats for all of your bouldering needs.
Available exclusively at Depot Climbing, take a look through Core's hand-stitched in Sheffield collection of bouldering mats.
Nucleus Sit Pad

– £60

The Nucleus from Core Climbing is designed to be used in conjunction with other pads in the Core series.

Sit start pads are perfect for those areas close to the wall that doesn't need or can't accommodate a larger pad, but still needs a little something; or for covering gaps in your matting set-up so there's no slipping through.

Featuring a carpeted corner for cleaning shoes, ideal for added surface area, or spotting, the Nucleus is a perfect addition to a collection of bouldering mats. Easily stored on any of the other pads in the Core collection thanks to Core's streamlined stack-carrying integration.

Open Dimensions: 100 x 60 x 2.5cm

Weight: approx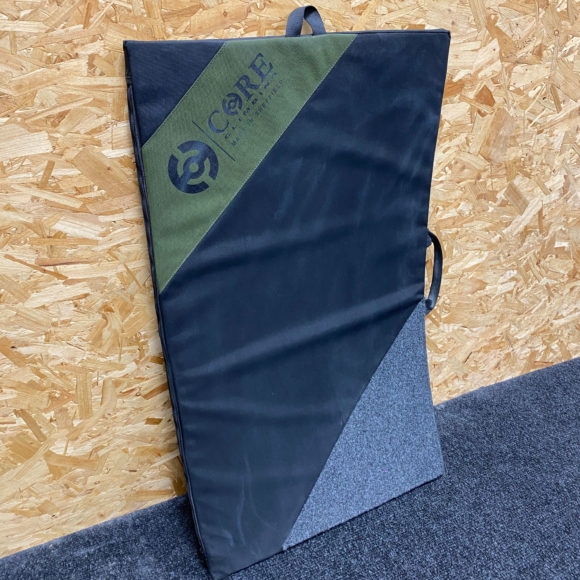 Reactor Half Pad

– £105

The Reactor is a half-pad, designed to bridge the gap between a sit start and a full pad.  It can be used alone or as part of a collection of mats, it's perfect for filling in the gaps or positioning in areas where full pads can't go.

Using 2.5cm of high-impact absorption closed-cell foam and 5cm of high-grade open-cell PU foam, wrapped in durable high-tenacity Cordura fabric this half pad is safe, durable, and long-lasting. 

Perfectly packable thanks to Core's streamlined, stack-carrying integration with its other pads in the collection, the half pad is a perfect companion to compliment your existing pad setup.

Easily stored on any of the other pads in the Core collection thanks to Core's streamlined stack-carrying integration.

Open Dimensions: 100 x 60 x 7.5cm

Weight: approx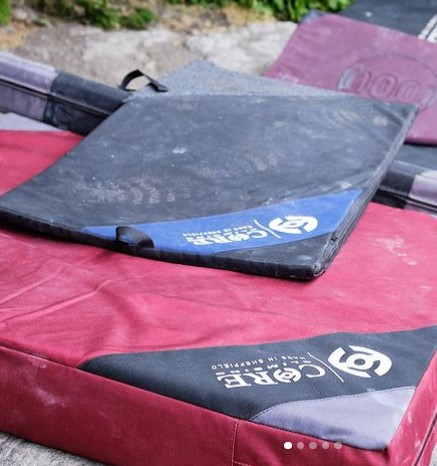 Workhorse Pad

– £260

Perfect for any outdoor boulderer, the Workhorse does exactly what it says on the tin-it works hard to keep you landing safely.

A hybrid hinge folding pad, that's versatility and durability, this pad features 3 layers of open and closed cell foam, wrapped in high quality, highly durable Cordura shell. 

Cordura is a synthetic material that is highly abrasion-resistant and water-repellant, making it the perfect match for a bouldering pad.

Featuring an ergonomic, padded, and adjustable carrying system that has a cover to keep straps out of the way when open, and forms the basis of the streamlined, stack-carrying system unique to Core pads.

Convenient grab handles mean it's easy to readjust its position under the wall, and secure metal clasps keep the pad closed, easy to carry, and simple to store when not in use.

Open Dimensions: 120 x 100 x 12.5cm

Weight: approx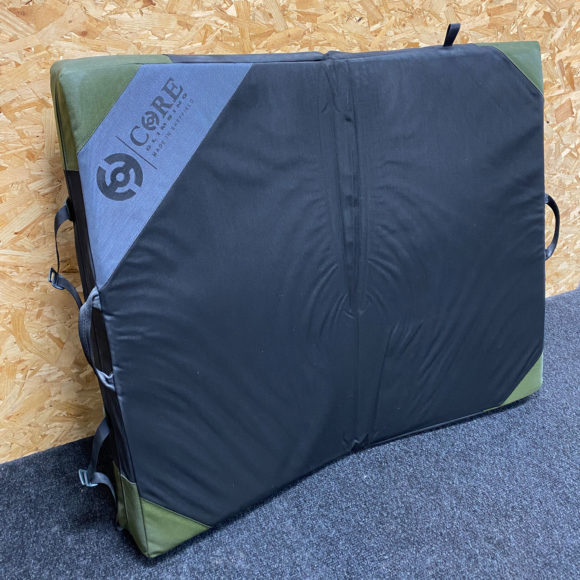 Titan Pad

– £400

Another pad with a clue in the name; the biggest of the Core collection, featuring all the same benefits of the Workhorse, but bigger!

3 layers of open and closed cell foam give you the soft, but safe and secure landing you need from any height, with a hinge fold opening and hardwearing Cordua fabric shell, the Workhorse gives you a landing zone of 160cm by 130cm.  

Grab handles ensure easy of placement, while metal clasp buckles keep the pad securely closed and stored.  Despite it's size, the padded strap carrying system is ergonomically designed for comfort on your shoulders and hips.

A carry system cover keeps the strapping covered when climbing, and allows you to stack more pads on top for easy walk-ins with multiple pads, especially those from the Core range.

This is the pad for the highball boulderers and those classic Peak landings.

Open Dimensions: 160 x 130 x 14cm

Weight: approx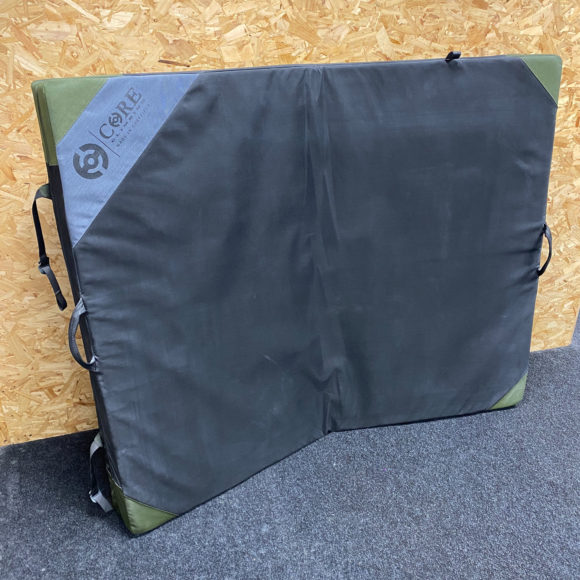 Organic Climbing
Bringing brightness to bouldering, US brand Organic Climbing is renowned not only for its top-quality climbing equipment but also for its industry uniqueness.  Combining climbing with art and expression, their products are crafted with simplicity and longevity at their core.
Hand-made in small quantities, using materials sourced within the US, Organic Climbing bouldering mats every pad is unique-just like you!
Briefcase Pad

– £80

Looking for something small, packable, easy to store, yet ideal for a swift bouldering session? Look no further than the Briefcase pad.  It's also the perfect addition to an existing bouldering mat collection if you're looking for something to compliment your set.

A hinge folding pad, with a robust 1050d ballistic nylon outer for durability, the Briefcase is carried as you'd expect from the name, using two webbing grab handles and held together using secure metal buckles.

This is the ideal introduction to Organic Climbing and their collection.

Open Dimensions: 90 x 60 x 7cm

Weight: approx. 2kg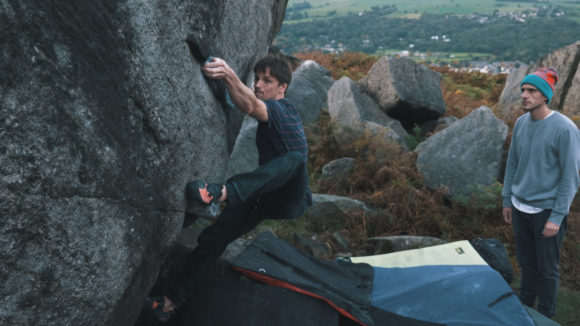 Simple Pad

– £225

The most popular pad in the Organic Climbing collection, the Simple Pad is the go-to option for boulderers looking for simplicity, but the highest quality thanks to the highest quality foam and fabrics.

It may be simple, but this pad offers you a generous landing zone of 91cm x 120cm and has Organic's 3-layer foam (3 inches of soft, 1 inch of hard) that can handle any impact you throw at it.

A hinge fold, with 4 metal buckles for a simple and secure closure, and 3 grab handles make this pad easy to pack, unpack and store. 

Beefy, padded shoulder and sternum straps provide comfort on those long walk-ins, and with a 1050d ballistic outer shell, this pad will handle anything you can throw at it.

Open Dimensions: 120 x 91 x 10 cm

Weight: approx. 5.5 kg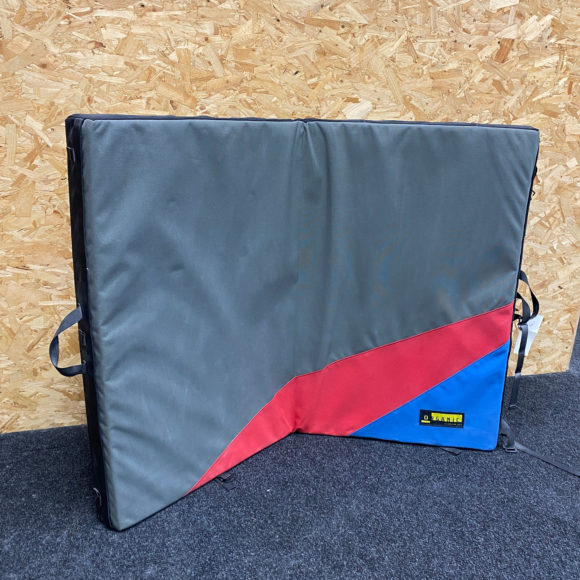 5in Big Pad

– £395

Going big? Then Organic Climbing offers you the aptly named, Big Pad.  

Despite its size, this pad closes easily thanks to a hinge fold and 4 secure, hard-wearing metal buckles and carries comfortably thanks to big, padded, and comfortable shoulder and waist straps that mean no matter how long you walk in, you'll do it in comfort.

Utilising the same 1050d ballistic nylon outer shell material, the Big pad works just as hard as any pad in the Organic collection, which means you aren't compromising anything for that extra landing zone. 

Filled with Organic's renowned foam, considered the best on the market, it has perfect rebound and lasts longer than other foams on the market.

Three grab handles make it easy to move the pad around the crag without having to pack it up between boulders, and when partnered with a load strap, can easily stack supporting mats for all of your extra matting needs.

Open Dimensions: 147 x 116 x 12 cm

Weight: approx. 8 kg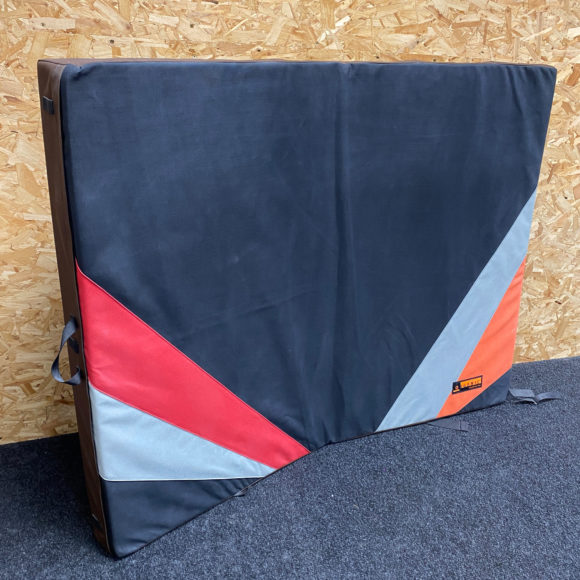 Flashed Climbing
Squamish is the home of slick granite, splitter cracks, and of now, the birthplace of Flashed Climbing.  Born from a dedication to pushing the boundaries of bouldering safety, Flashed combines form and functionality to 'save your butt with the best foam in the business'.
Drifter Pad

– £250

Built with ease of use, versatility, and longevity, in a refined product; the Drifter Pad is a perfect choice if you're looking for a high level of protection, looks good, and will see you through as many bouldering trips as you can manage and still not break the bank.

A hinged pad with luxury as standard with a padded and reinforced carrying system comprising padded shoulder and waist straps make this pad comfortable to carry on its own, even with multiple pads thanks to the easy carry multiple pads system.

Incredibly durable 1680d ballistic nylon and PU undercoating mean this bouldering mat is hard as nails and will be your companion on many bouldering trips without compromising performance, further enhanced by rounded bottom corners to avoid abrasion.

Open Dimensions 127 x 91 x 10 cm

Weight: approx. 6 kg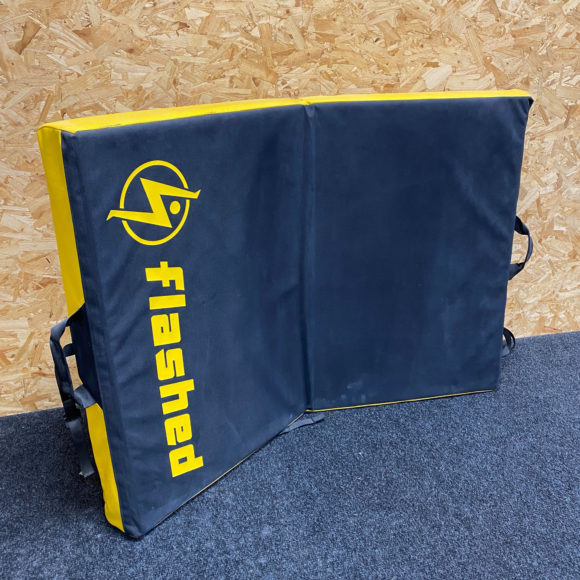 Big Squishy Pad

– £380

All in the name, this pad is big and it's squishy, perfect for big landings! Born out of the forests of Squamish where poor landings are common, the Big Squishy from Flashed Climbing provides safety on all terrain.

Featuring all the best benefits you'd expect from Flashed such as long-lasting 1680d ballistic nylon outer fabric and rounded edges for the longevity of use, and a premium, easy-to-use packing and padded strap carrying system.

Need to stack multiple mats on your back? No problem, the Big Squishy can perfectly carry a second mat with no need for extra straps with its multiple-pad carrying system. 

Works perfectly with another Squishy or a Drifter for all your bouldering mat needs.

Open Dimensions: 147 x 117 x 13 cm

Weight:  approx. 8.6 kg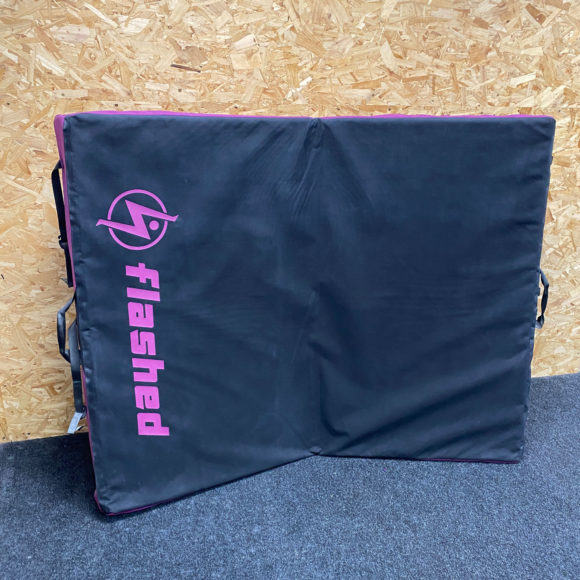 Any questions?
We hope we've given you all the information you need to make the best choice of bouldering mat for you, but if you have any further questions, feel free to drop us an email on:
Or ask one of our friendly, and knowledgeable staff next time you're in your local Depot Climbing Centre.