Winter Routes Leagues

2023/24

Stay strong, winter is coming! Winter Routes Leagues return to BIG Depot Climbing this winter season to keep you moving throughout the cold months.

4 months, 4 rounds, scoring open for 3 weeks, with the final round score counting double.  Your best 3 scores from the 4 rounds are combined to give your local Depot WRL Champions.

Every round in each participating centre will host a raffle on the round, simply submit your scorecard to be in with a chance of winning great prizes from top brands, no matter where your score lands you.

The more rounds you attend, the bigger and better the raffle prizes become!

Scorecards and Round Results can be found at the bottom of the page.
What is the Winter Routes League?
Here to foster a sense of community within the BIG Depot Climbing site, Winter Routes Leagues inject a bit of friendly competition and an opportunity for climbers of all abilities to experience a competitive environment without pressure.
Our dedicated roped climbing centre BIG Depot Climbing will host 4 rounds of the Winter Routes Leagues competition, Round 1 will take place in December, Round 2 will take place in January, Round 3 in February and the 4th and final round will take place in March.
Lead climbing competition routes will be in specific areas of the centre, and will be marked for clarity, and all scoring is explained below.
Scores will be submitted online, with results available within days of completion of the round. No more paper scorecards!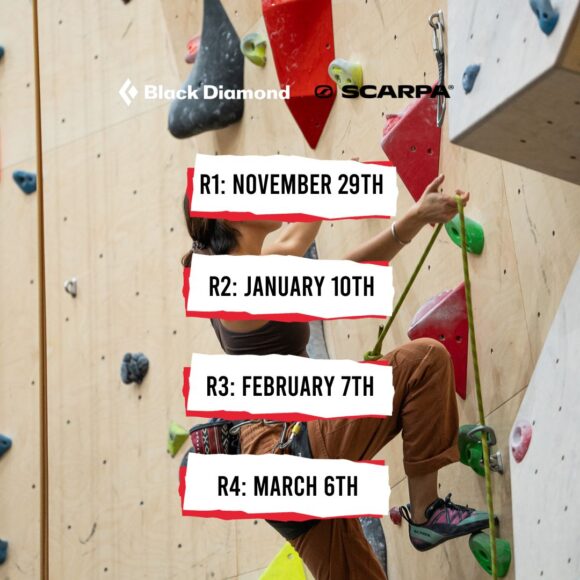 How do they work?
It's all so simple! Each round will consist of 15 routes, ranging from 6a-8a, climb as many of them as you can, in as few attempts as possible, all while having fun! The scoring works:
1st attempt = 10 points
2nd attempt= 7 points
3rd attempt = 4 points
4+ attempts = 1 point
Bonus Holds = 1 point per hold used (you must actively move from the hold, not just touch it)
Scores are only valid for routes that you lead (no top roping) clean (without falls or resting on the rope).
Please note that bonus holds only count once, if you take 4 attempts to do the route, bonus holds only count for one of those attempts. If you aren't sure, ask a member of staff.
R4 scores will count double.
Your final League score will be your 3 best scores combined from the series.
Routes will be up on the walls until the reset for the next round, however, your scores won't be counted if not submitted during the current round.
When Are the Rounds?
December
November 29th – December  24th
January
January 10th – February 4th
February
March
What Categories & Prizes are there?
Categories
Our categories spread from age 7 and don't have an upper age limit! See below for more details:
Junior Male 7-15
Junior Female 7-15
Open Male 16-44
Open Female 16-44
Masters Male 45+
Masters Female 45+
Overall Winners Prizes
Juniors Male & Female 1st, 2nd & 3rd place: WRL Trophies
Open Male & Female 1st Place: £85 voucher
Open Male & Female 2nd Place: £45 voucher
Open Male & Female 3rd Place: £30 voucher
Masters Male & Female 1st Place: £75 voucher
Masters Male & Female 2nd Place: £35 voucher
Masters Male & Female 3rd Place: £20 voucher
Round Raffle Prizes
Each round has its very own unique raffle, and all you have to do to enter is submit your online scorecard!
Raffle prizes get bigger and better the more rounds you attend, starting small with chalk and bags and ending big with ropes and quickdraw packs.
Winter Routes Leagues Scorecards
Winter Routes Leagues Results
Winter
Bouldering Leagues

in Leeds

Not enough competition for you? Our Armley & Pudsey sites in Leeds will be hosting Winter Bouldering Leagues.

Check out our WBL page for more details.

Winter Bouldering Leagues