Talking Esclatamasters

with Depot Climbing Athlete Josh Ibbertson

When we got an email out of the blue from Depot Climbing athlete Josh Ibberston, we knew it was going to be good! Josh generally keeps his powder dry until it's time to unleash a bang…

…and he's done just that, getting in touch to let us know he had made his quickest ascent of a 9a to date, with a redpoint of Esclatamasters on the first attempt of his 5th session in early May.

First climbed in 2006 by Ramon Julian, the route involves two sections, the lower of which lends itself to powerful moves on heels, kneebars, and drop knees before a top section that is technical and crimpy.

Josh is no stranger to hard sports lines, having ticked his first 8a route aged just 10, ahead of his first 9a by age 16.  Josh has some of the UK's most proud and difficult lines in his logbook; from Rainshadow and Northern Lights to Batman and Rainman.

After his most recent send of the 35m Spanish testpiece, Esclatamasters, we caught up with Josh to hear more about his ascent and his approach to hard redpoint climbing.

Image: Emile Pino

Follow Josh on Instagram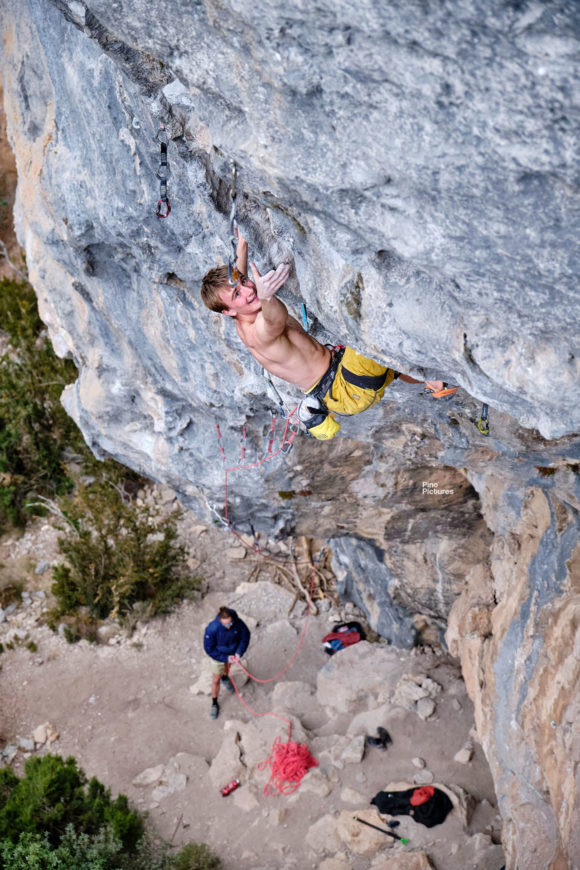 So, How does it feel to have added this infamous Spanish route in Lleida to your logbook?
It feels good! I had a great time on this route-good crag, with good rock, and good people. It's always nice to get a classic ticked and I had a great time with this one,  joining my friends Leo (Bøe), Francesco (Bosco), and Edu (Marin) to work this awesome route together, and I'm psyched to come back to this sector for more.
There's been some strong climbers take on Esclatamasters, what drew you to the line, and did you work it with anyone else?
I initially got on it because Leo was on the route so it was something I could try with a reliable belayer!
But I quickly realised that the route was world-class and had some of the best rock I've ever been on.  The upper headwall in particular was a huge draw factor for me, with its technical crimpy climbing on immaculate blue limestone.

Can you walk us through the route and the day of the send?

 
I sent Esclatamasters on the first try of my 5th session.  I fell above the crux, 1 move away from easier climbing the day before, so I felt fairly confident that if I executed everything right I'd have a good chance of sending.
Interestingly, this felt quite different to other hard routes I've been on as I find that I often climb at my best when I don't have too many expectations, because this allows me to focus on each move, without putting too much thought on the outcome.
However, in this case, even though I had the confidence that I could send it, this didn't make me feel pressured. Instead, I was able to enjoy the rock climbing and experience the route in its full. 
How does Esclatamasters compare to some of the other 9a routes you've climbed?
It's a little tricky to say! The style feels quite different from other routes I've done, especially in the UK. It did come together quicker than other 9a routes but I think it suits my style very well.
The week after I did 'Joe Blau' at Oliana which gets 8c+ and I thought it was harder than that 🤷 I was told a hold broke on the crux around 2015 which has made it harder. 
Was there a particular inspiration that drew you to the line? Hazel's ascent? Ondra's onsight?
Not going to lie, mainly the prospect of a lift and belay! However, I had seen some videos of Angus (Kille) and Hazel (Findlay) doing the route which got me properly psyched.  
Esclatamasters is renowned for being a stamina test, was it this notoriety that drew you in?
Not really in the 1st instance, I was on my own rock climbing in Lleida, Spain so was trying routes where I could get a belay.  I do like the crimpy stamina style though so it all worked out nicely.
Rock climbing on our limits can often take a lot of time and dedication, how long had you been working on the route?
The first day I went to the crag I didn't intend on trying Esclatamasters. Instead, I wanted to try the 8b+ which shares the same lower section but branches out left before the crimpy headwall.
After dropping this right at the top (where you shouldn't really fall) I decided to have a quick look at the headwall as I couldn't resist pulling on some crimps after a few weeks of climbing in the blocky, more physical style of Santa Linya.
All the moves came together really quickly so at that point I was super keen to come back. I came back a couple of days later and linked the whole headwall from the knee bar rest on my warm-up go whilst placing a couple of quickdraws.
At that point, I was really psyched and thought it would be a good challenge to see if I could climb it in as few tries as possible, before proceeding to fall off on the Tufa section at a lower point than my flash attempt. 
In the end, I think I fell more times from the ground on the 'easier' tufa section than the upper headwall ( I think 3 times on the tufa section and twice from the headwall). 
One problem I was having was skin. On the crux, I was using a very thin, very sharp left-hand crimp that I could only pull on a couple of times before I had no skin left. So I changed the beta on the headwall in the third session to avoid the sharp crimp.
On my 4th session, I had two burns, getting agonisingly close, and then came back the next day with some more confidence and sent on the first go of that session.
This is the latest addition to your tick list of hard sport climbs having multiple 9a's already on there.  What's next from here?
Hmm, good question! Something I need to think about. My intention was to get on Overshadow at Malham but that will have to wait due to nesting restrictions.
I think the plan is to enjoy some more of the local climbing whilst I reaccumulate some Schengen days. At the moment, I'm getting back into the swing of training after a sustained period of outdoor climbing. Then it's off to the North Coast of Spain for the summer! 
Do you have any pre-climb rituals that you run through before setting off on the redpoint attempt?
I always take the time to do a thorough warm-up using a portable resistance band and fingerboard. I've done pretty much the same routine for the last 5 or 6 years so I guess you could call it a ritual at this point. Knot, shoes then kneepad. ALWAYS in that order. 
When you're working on hard redpoints how does your week around that look? Are you still training hard indoors? Or do you lessen the load and supplement it with off-the-wall exercises?
It depends, when I'm on a trip I tend to reduce the training load substantially.
If it's a longer trip I'll try to include a short board session maybe once a week for top-end strength maintenance as this is the main thing I find to be missing during sustained outdoor periods.
I tend to find that I can climb for quite a long time just outdoors without noticing a decrease in performance (which is great). I think this might come down to being quite purposeful and intentional with what I do during my days on the rock.
Usually, I will incorporate 'training' into my rock climbing. If I've been doing a lot of limit climbing with more bouldery moves, I'll try to keep the endurance topped up by doing a day or two of mileage, or by doing some laps on easier routes at the end of the session.
If the routes are more endurance based I'll throw in some board climbing at my nearest Depot Climbing centre, or have a go on a more bouldery route to keep the power topped up. 
A typical week would be 2 days on and 1 day off. If I'm getting close to something at my limit then I may go to 1 day on 1 day off, but I try to avoid doing this for too long as I start to notice a drop in route fitness. 
Working on your limits can often be a difficult undertaking, so what tips would you offer to those looking to push their grades and pick out some hard projects to push their limits and abilities?
When looking to push your rock climbing grade, find a route that's nearby, in your style, and not too hard for the grade; and most importantly, that you're psyched for.
The route you try will always seem impossible on the first few sessions, and if it doesn't then you're probably not climbing as hard as you can!
If there's something you're psyched for, but after giving it a few goes it feels too hard, keep looking for new beta, and eventually you'll probably find that it starts to feel far easier.
Finding people who can work on projects with you can definitely make what seems like punishing yourself over and over way more enjoyable, and it can streamline the process as you share beta and work things out for each other.
I personally love it when my friends find some obscure kneebar that cuts the route in half and saves me a lot of falling!
When moves start feeling easier on the project you might be tempted to start redpointing, but it's important not to rush into this stage.
It's good to have blasts from the ground, however, you have to make sure that you're making links all the way up the route, not just from the start, otherwise you limit how efficient you'll be on the upper sections of the route, and you might not have your beta as dialed as you would want.
Crags don't have legs. The route isn't going to run away and never come back, so take your time and don't panic if conditions get worse or you start getting tired of trying it every day.
When you're getting close you might feel like you have to try it as much as possible, but it's at this point that you should have the least tries and sessions.
Pick the days with the best conditions and give yourself enough rest, which should maximize your chances of everything coming together for a perfect send-go.