Finding
True North

with Depot Climbing Athlete Anna Wild

Depot Climbing athlete Anna Wild is 22, with only a few years of outdoor climbing under her belt, she has ticked off many of the best 8a's and 8b's in Yorkshire.

Having recently studied Neuroscience and psychology for a degree in Manchester, Anna is often found training at our Depot Climbing site in Manchester. Moving North for university brought outdoor climbing into Anna's consciousness, and more recently, passing her driving test has allowed for an acceleration in sends.

Following shortly after sending just her second 8b+, True North represents a culmination of dedicated training and a drive to work her way through a who's who of classic routes of UK climbing. 

First climbed in 1993 by Tony Mitchell, True North is an intense, bouldery pitch of climbing, up there with some of the finest lines in the country and in 1993 it was certainly on the cutting edge of what was possible.

Perhaps the most impressive feat of Anna's climbing is that she has only been sport climbing and climbing outdoors since the Covid-19 lockdowns eased, testing the waters with early trips to Portland before a return to Manchester opened up a whole new collection of hard uk climbing classics.

We caught up with Anna after her send to find out more about the process, inspiration, and of course, what is next…

Image: Marsha Balaeva  Monoculture Films

Follow Anna on Instagram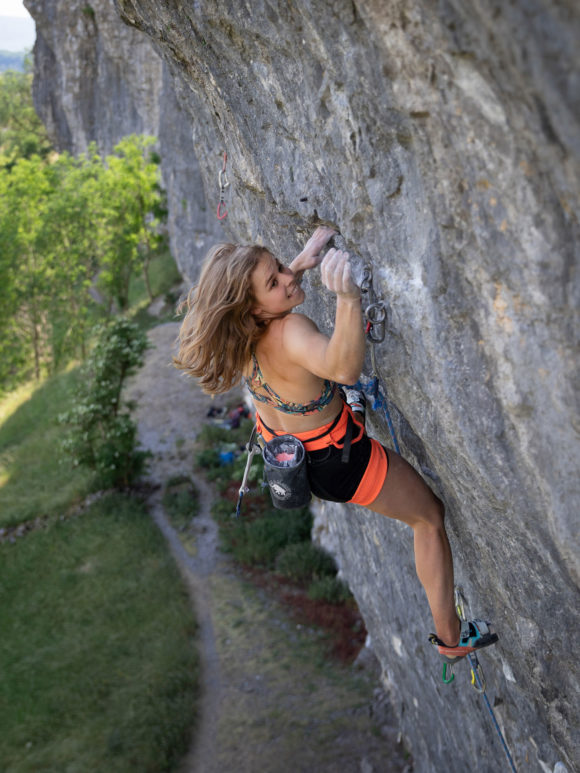 Congratulations Anna! How does it feel to have added another Kilnsey uk climbing classic to your logbook?
 Thank you! I am very pleased as it was my main goal for the year, but I didn't know how achievable it would be. It ended up coming together much more quickly than I had anticipated which leaves me lots of time to try other routes at Kilnsey and beyond this year! 
There have been some strong ascents of this route lately, were you working this with some of the other recent ascensionists? (if so, how did you find that process)
I was trying it with Gordon and Haydn, who both did it a week or so before me. It was reassuring seeing them falling on the last move before they did it, so then when I was falling there for a few sessions I knew it would come together soon.
I always like trying routes that other people are trying as well as it is always nice watching the go they do it having seen them working it previously.
Can you walk us through the route and the day of the send?

 
I had a few sessions falling on the last hard move but was getting slightly closer to sticking the move each time. It had been really hot though, so I wasn't sure whether conditions would be too bad, and I was starting to feel worried that I wouldn't get it done before I go away to Ceuse.
As with much of Kilnsey, there is so much hard climbing to do each time just to fall on the last move, so I think the stress of really wanting to do it and not being sure whether I could was getting to me a bit.
But I think I just needed to trust that I would keep getting closer; my first redpoint of the day was as close as you can be without holding the jug and then I did it on my next go.
True North represents your hardest route to date. How did you find the step up from your previous hardest red point to this?
Pretty big! I found it more challenging than usual each time I had a red point as it was more physically tiring than any other route I have tried, especially as the crux is right at the top. 
For someone with such a short history of outdoor climbing, you're ticking off the sends at an almost alarming rate, what is it that drives your passion for the outdoors?
I am definitely very driven and motivated, particularly by having one single goal. I don't like trying lots of things at the same time as I think I get too psyched by just one route.
I think this makes my mindset suited to redpointing routes that are hard for me as I will be so focused and determined to do the route that I am trying and then will set a new goal and move on to the next one when I do it.
But I also don't get bored easily and always like trying things that take me a while more than onsighting routes or doing things in a few goes. 
My early climbing experience was only inside, so as soon as I started outside UK climbing when I came to uni I realised how much better it was and how much more psyched I was for outdoor sport than climbing inside and doing comps.
I think this gave me a lot of momentum to climb a lot outside, just because I enjoy it so much. 
Climbing on our limits can often take a lot of time and dedication, do you see your current climbing as on your limit or will we be seeing even bigger numbers soon?
I think 8c is my limit at the moment, yes. It definitely felt like the hardest thing I can do at the moment and took around 10 sessions which is probably the upper limit of what I'd like to spend on a route.
I think if it takes much more than that then I'd probably want to go away and improve my bouldering strength and then come back to it.
In the last couple of years, I have felt my bouldering level up quite a bit so if the same thing happens the next couple of years then maybe I'd try an 8c+ (I think I have very good endurance so improving my bouldering is what will help to improve my sport climbing).
But I think I'd like to do more in the realm of 8b-8c first before I try anything harder. 
True North was your summer goal, and you've done that with time to spare. so what's next?
In July I am going to Ceuse for a month and then Flatanger for 2 weeks, so lots to love forward to and a nice change from the UK climbing scene!
Do you have any pre-climb rituals that you run through before setting off on the redpoint attempt?
No, just check that I am tied in lots of times!
When you're working on hard redpoints how does your training schedule look? Do you keep up your training intensity or do you prioritise antagonistic exercise and rest?
I sort of just play it by ear and see how much outdoor climbing I can fit in that week. But I drop most of my training.
If I have the time then I just do about 4-5 days a week doing sport climbing outside and then do some physio/antagonist exercises when I get back. Or I'd substitute an outdoor session to do a bit of training like a board session at Depot Climbing in Manchester.
I find it useful to do a bit of board climbing during sport season to maintain my high-end strength/power. When I was trying True North, I tried it twice a week and had 2 other sessions a week trying a different route or climbing inside. 
You've said before that a strength of yours is to be fully focussed on the climbing when you're on a route, what tips would you give to someone who is trying to quiet their mind when on a project?
I would say to try to remember how insignificant it will be in the long run whether you do the route today or next week or next year.
I think when you get close to doing something it becomes something that matters so much to you and that is good when you are still enjoying it but if it makes you too nervous that you can't focus I guess it is just important to remember to just try and have fun and that there are much more important things than your project. 
With your degree behind you, what's in the pipeline for the next year? Will you be looking towards a big euro trip to test yourself against some of the continental classics?
When I get back from my trip to Ceuse and Flatanger I am starting a PhD! It will also be in Manchester so I will still be near lots of UK climbing but it won't be for another 4 years until I can start thinking about doing some traveling for an extended period of time. 
When you aren't climbing or studying, what other passions keep you occupied?
I have been doing lots of reading recently; my favourite book is called 'Sorrow and Bliss'. I also watch quite a lot of tv shows and films and spend more time cooking when I don't have much work to do and also love going out to eat!
I also really enjoy running and now that I have more time over the summer, I'd like to go on more runs in the Peak District.