Lucy Keyworth becomes the first Depot Paraclimbing Athlete
We are delighted to announce our latest addition to the Depot Climbing athlete team; Leeds-based climber, Lucy Keyworth.
Founder of the Leeds Paraclimbing Club, an organisation that aims to help disabled people and their friends and family get into climbing and tackle some of the barriers disabled people face in the climbing industry. 
Lucy is a trained climbing instructor who now spends her 9-5 working for a separate charity called Experience Community .
The company aims to help disabled people access the outdoors through adaptive mountain biking and walking and providing accessibility consultations to organisations.   
Part of the GB Paraclimbing Team, Lucy is predominantly focused on lead climbing but dabbles in a bit of bouldering too.
She competes on an International stage after being crowned national champion of her category (RP1), and after finishing 4th at the Dutch Nationals, was offered a spot on the GB team in December 2022.
Lucy is planning to attend the National competition series this year, and as many international competitions as possible, with a main focus on the World Championships in Bern, Switzerland.
We can't wait to follow Lucy's competitive journey and support her in her training along the way, so we caught up with Lucy ahead of announcing our new partnership, see what she had to say below.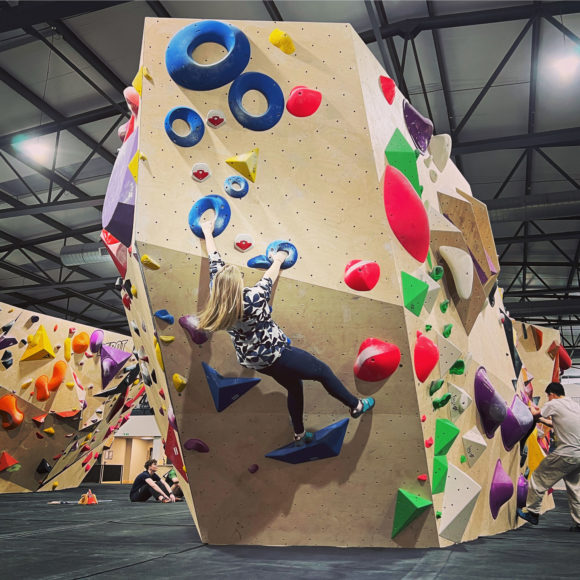 Starting with an easy one, tea or coffee? Yorkshire Tea or Tetleys?
I'm not really a tea or coffee person. But, if I had to pick probably coffee. I do like a flavoured coffee every now and again, usually a mint choc chip frappe.
Leeds United or Leeds Rhinos?
Leeds Rhinos all the way!
Gri-gri or ATC?
My preference is a gri-gri. They are safer and easier to use when belaying from a wheelchair.
Crimps or Slopers?
Definitely crimps. Who really likes slopers?!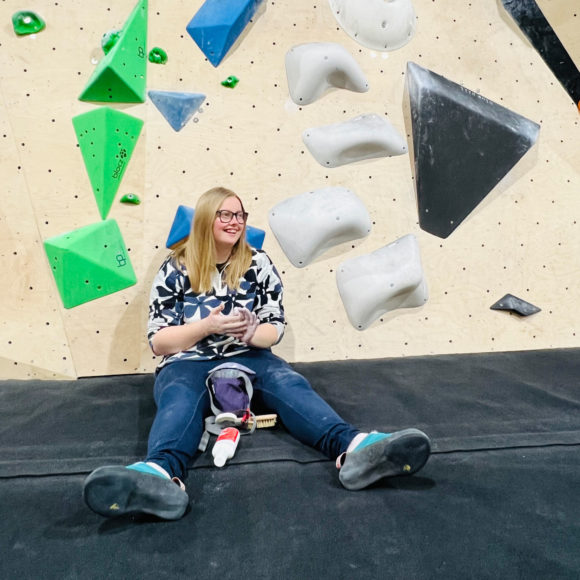 How did your climbing journey begin?
I took up climbing 4 years ago to help improve my overall well-being after spending 2 months in the hospital. I have a progressive neuromuscular disease which means my body is slowly deteriorating over time so wanted a fun way to keep myself as fit as possible.
Thankfully, I was introduced to climbing by some friends on a trip to Australia. The sense of freedom was extremely overwhelming when I first got to the top of the wall. I was able to leave my wheelchair at the bottom and find a creative way to get myself to the top in one piece.
From then on, I was hooked and once back from Australia spent all my free time in Big Depot where I gradually got stronger and improved my technique. I started competing in Paraclimbing and in 2022 become the national champion in the women's RP1 category and was selected to join GB Climbing. 
Can you tell us a little more about progressive neuromuscular conditions and how they influence your climbing?
My condition means my nerves don't get to my muscles properly so then my muscles don't work like they should, impacting my mobility. Because of this, I have low muscle power, spasticity, and poor balance and coordination making walking and climbing difficult.
I have to get creative when I climb as big powerful moves are often really tricky and I'm not very bendy. Most of my climbing is done through my upper body and involves a lot of pushing and pulling. I am able to drag my legs up onto a foothold as long as it's not too high and use it for balance but can't push through them. 
As all the muscles in my body are impacted I struggle gripping holds and can't straighten my fingers therefore you will normally find me training on jugs, crimps, and pinches. Over the last few years, I have learned what techniques work for me and apply them to my climbing. Climbing is now way easier than walking for me.
When you're on the wall, whether for fun, training, or competing, how does climbing make you feel?
Climbing makes me feel free. I can leave my wheelchair at the bottom of the wall and just climb like anyone else. It's a great challenge that allows me to switch off from the stresses of daily life and just focus on topping a route. 
What would be your dream accomplishment as a competitive climber?
We are hoping Paraclimbing will be added to the 2028 Paralympics. So, if this happened the dream would be to climb in the finals at the Paralympics. 
How have you found the competition circuit so far? 
The competition scene is great. It's really helpful meeting other disabled climbers and learning how people with similar impairments climb. Everyone at competitions is super friendly and supportive and I highly recommend it to disabled climbers. 
What is the biggest challenge you've faced in your climbing journey so far?
The biggest challenge I face is the lack of accessible climbing centres and the negative assumptions from non-disabled climbers about what paraclimbers can do. 
Do you climb outdoors? And if so, is there a dream area you'd like to climb? 
 I really enjoy climbing outdoors. However, most outdoor places are difficult for wheelchair users to access due to barriers like stiles instead of a gate or rough, uneven terrain.
I like sport climbing as it means you don't have to carry too much gear with you. One of my favourite spots is Horseshoe quarry. I'm hoping to get outside when the weather is nicer and find some new places that are wheelchair friendly.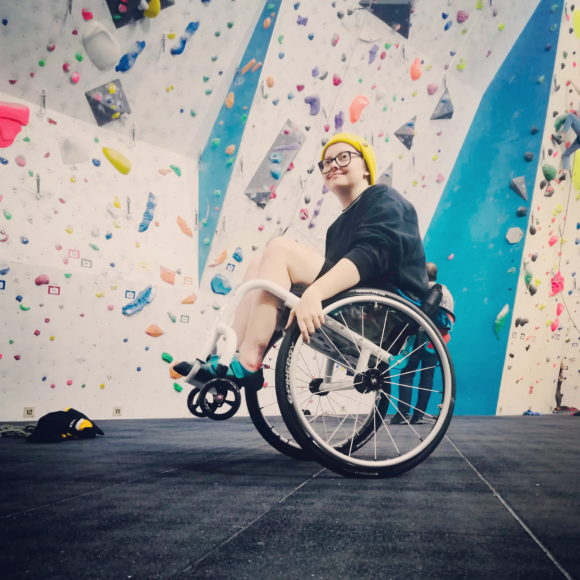 What is your favourite centre to train at?
My favourite centre to train at has been Big Depot and I'm super excited for it to re-open. I live locally to Big Depot, it's my nearest wall and where I topped my first 6b. 
What is on the agenda for your climbing in 2023 and beyond? 
I will be heading to my first World Championships in Berns this summer and would like to finish in the top 5. The plan is to continue learning, and working on my climbing and hopefully win a medal in the next few years. I also want to continue finding more accessible outdoor locations and improve my outdoor climbing ability. 
What advice would you give to anyone thinking about giving climbing a try?
Go for it and just give it ago. It doesn't matter how you climb or how quick you are, everyone has their own way of doing something. 
How can the climbing community increase allyship and/or become more accessible to anyone with health conditions or impairments?
Firstly, if you think your local climbing centre isn't accessible then challenge it and be a voice for the community. Maybe there is no accessible parking or steps to get in the building, preventing disabled people from being able to access climbing.
Equally, please don't park in accessible parking spots without a blue badge! If I don't park in a disabled space then I can't physically get out of my car and sometimes parking down the road and pushing to a centre is not the safest or easiest thing to do. If there is no accessible space I have to literally turn my car around and go home. 
You can also speak to paraclimbers and ask questions but be mindful of how you say it and what you ask. You don't necessarily need to know why someone is a paraclimber but feel free to ask about climbing-related things. 
You can support paraclimbers by coming along to our competitions, following us on social media, or volunteering with some of the awesome paraclimbing organisations. 
Can you tell us more about the Leeds Paraclimbing Club?
I set up Leeds paraclimbing club to challenge some of the barriers disabled people face when accessing climbing and adventurous activities and get more disabled people into the sport. We run weekly sessions and outdoor trips and have had over 100 new people come along to a session since we launched in 2021. 
What other passions motivate you and bring you joy?
I love sports and the outdoors. I recently took up sit skiing after spending some time in Colorado in the Rocky Mountains. Skiing gives me the same sense of freedom as climbing and I am hoping to continue progressing and getting down harder runs without falling over.
I enjoy being outdoors and find it helps massively with my mental health. 
Who do you look up to and/or admire?
I look up to some of the amazing paraclimbers on the GB Climbing Team, like visually impaired climbers Jesse Dufton (and his guide Molly) and Abbie Robinson. They are both super strong and acing the competition scene.
I also look up to non-disabled climbers like Janja Garnbert and Shauna Coxsey and wish my competition head game was as good as theirs.
Thanks Lucy! Everyone at Depot Climbing is really excited to have you on board.
Follow Lucy on social media via the link below and if you are looking for more information, take a look at our useful links too.